Posted by
Scott
on May 26th, 2014 in
Security
,
Technology
|
0 comments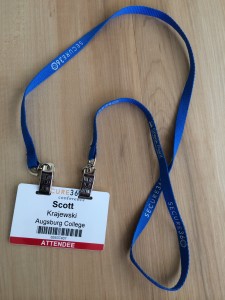 I've finished the mid-May 2-day secure360 conference here in St. Paul. It was generally quite good even though it was very corporate-focused. Security is security no matter what you're protecting. But first off I got my lanyard! That's a Marvel's Agents of S.H.I.E.L.D. reference for those not familiar.
The best session was the first one I attended – Users: your first line of defense (click for Slideshare) which had many immediately useful tips.  Taking cues from social psychology, Ari Elias-Bachrach focused on methods for influencing people for making effective training.  Some tips include
Use positive advice: rather than tell someone "don't run in the house" instead say "we walk in the house."  Frame things not as "don't do" but instead "how to do" the right thing.  And be sure to tell people what they should be doing.  So instead of "don't use weak passwords" frame it as "you should use strong passwords and here's how to do that."
Use real images in your presentations, not the usual clip art.  Take this
Users are never going to encounter a man in a ski mask on a laptop.  Instead use a picture of a real phishing email.
Use language appropriate to the audience and not technical security terms.  He mentioned using the general term virus rather than the technically accurate term of malware.  This spawned a good discussion.  The idea being, use a term that is commonly known.  Malware was agreed to be almost common but virus was more strongly common.  I am torn between being accurate vs. understandable in this case.
Try making trainings about home or personal computing but all the concepts apply to the office.  For example, hold an optional brownbag about how to protect your kids on the internet or how to protect your computer at home from hacking.  People will come to those and then all the concepts apply equally at work.
Now, on to the social psychology tips.  Some of those included (more…)