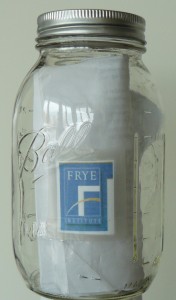 Alright, a little background here for folks that aren't from Frye '09.  Frye class of 2009 has a mascot, the Fryeshine jar, that has been visiting each of us from the group (that's a list of us with our addresses inside the jar).  Every visit includes many pictures of the Jar's adventures.  I decided to show off a couple of my favorite spots in Minneapolis.  Additionally on our email list there was interest in Mary Tyler Moore and the Mall of America so I included those too.  Click on any image to see a larger version.
Minneapolis Skyline
The day started with a nice vista of the Minneapolis downtown skyline from the roof of my building.  It was an unseasonably warm 50 degrees so I headed out with jar in hand.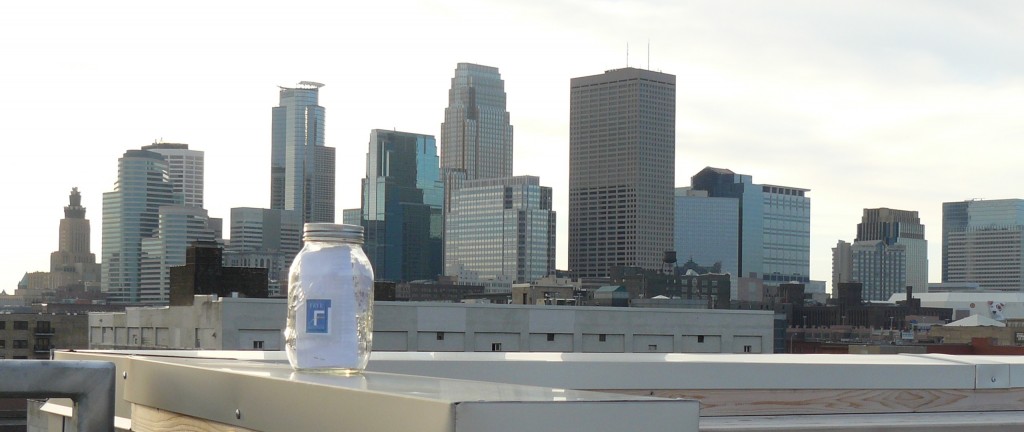 Augsburg College
First stop is Augsburg College where I work.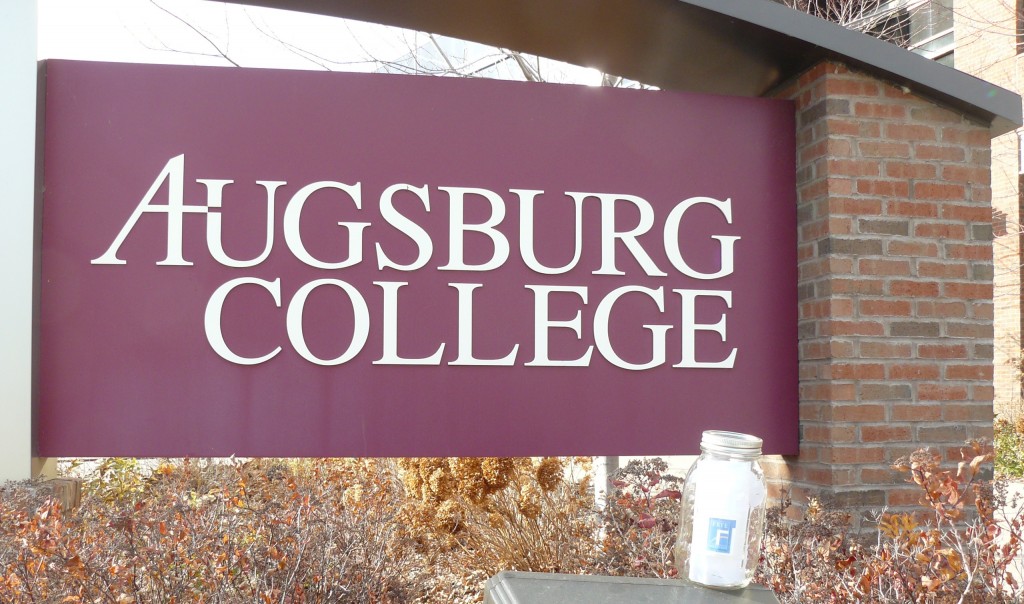 The jar stopped first at Old Main the oldest building on campus (built in 1901).  It houses classrooms and our Art and Languages departments.  Can you spot the jar in the photo?  It's there really.  Augsburg was a seminary initially when it moved to Minneapolis in 1872 (it started in 1869 in Marshall, Wisconsin) and remained a seminary until 1963 when the seminary was split off to St Paul to become Luther Seminary.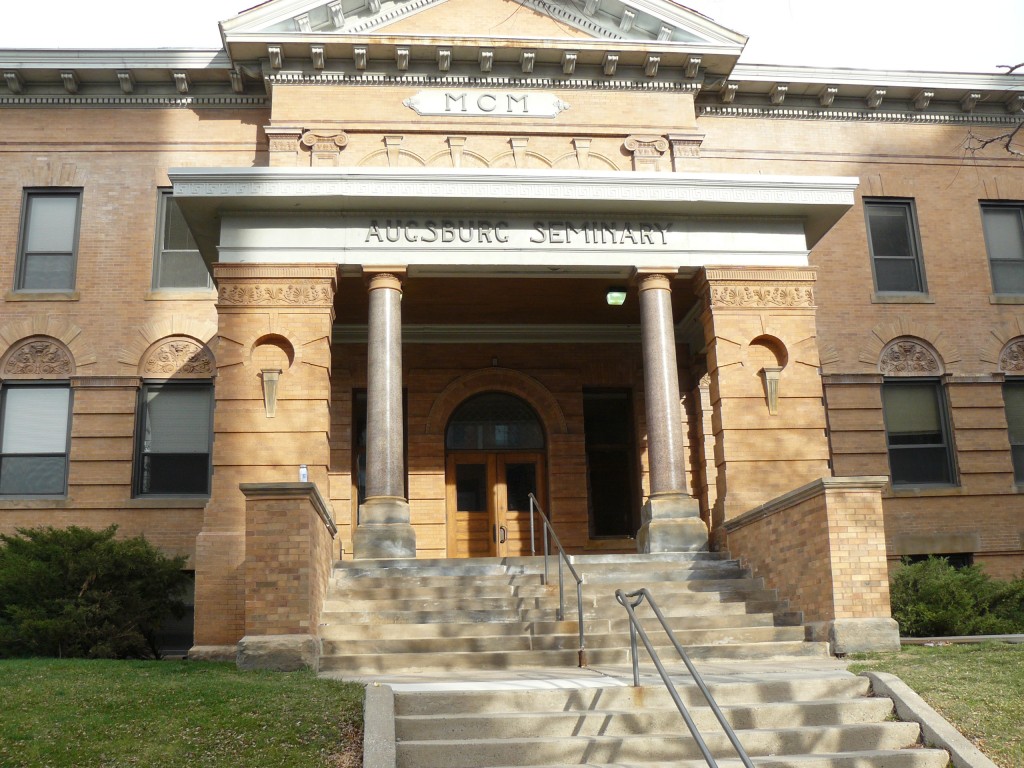 Next up is the Lindell Library which is the academic heart of the campus.  Nearly 15 years old, it's been a dynamic and changing building.  In 2007 we retired the monolithic reference desk and made the ground floor into a learning commons and doubled the number of computers in the Library.  Then in early 2012 we opened the Gage Center for Student Success on the second floor and relocated some stacks in the process (without losing any books!).  The Gage Center brings together several student service departments that were scattered around campus to a new single location to better deliver support to students no matter what support they need.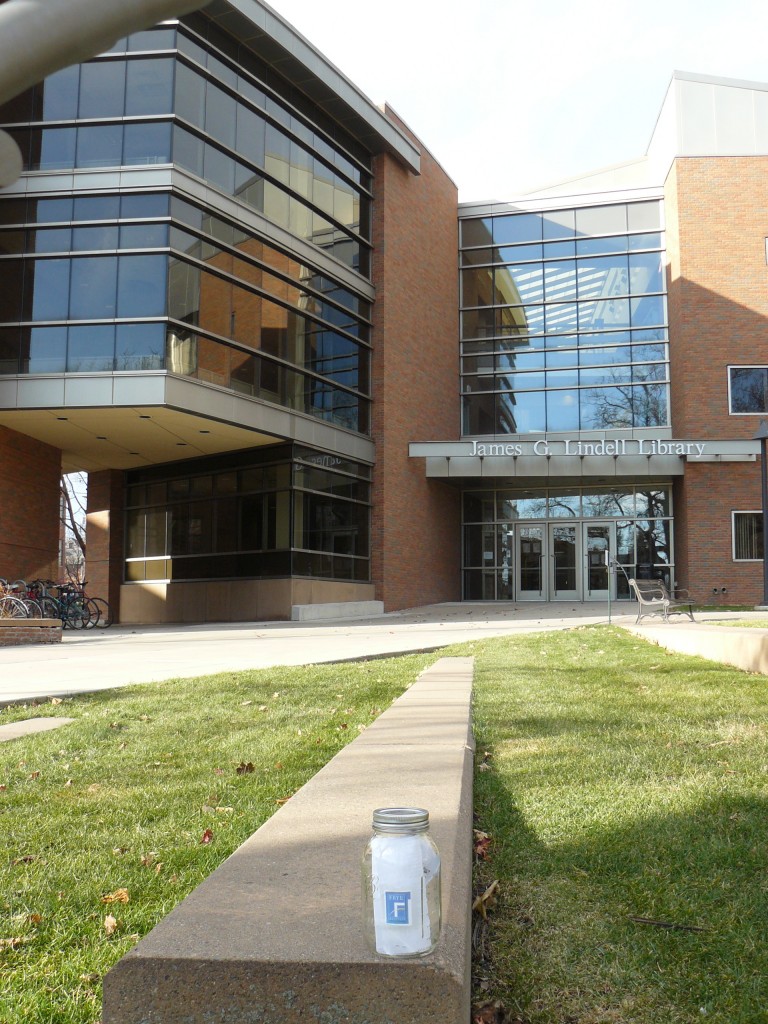 The newest building on campus is the Oren Gateway Center built in 2007. It's a modern urban college building bringing together student residences, administration offices, classrooms and commercial spaces.  You'll find Nabo cafe (that's the Norwegian word for neighbor) as well as our campus bookstore which operates as a neighborhood Barnes and Noble.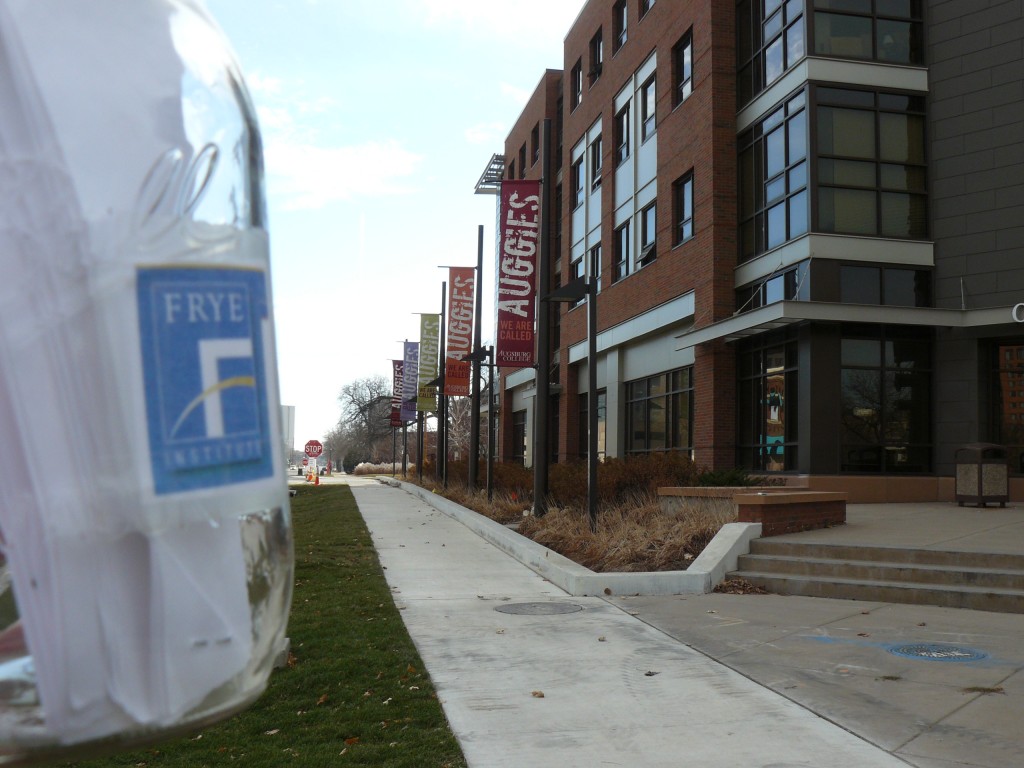 Mary Tyler Moore
To be honest I never watched the show but I found this site that gave me pointers as to what to find.  The jar visited the TV Land statue on Nicollet Mall downtown.  No jars were harmed in this photo.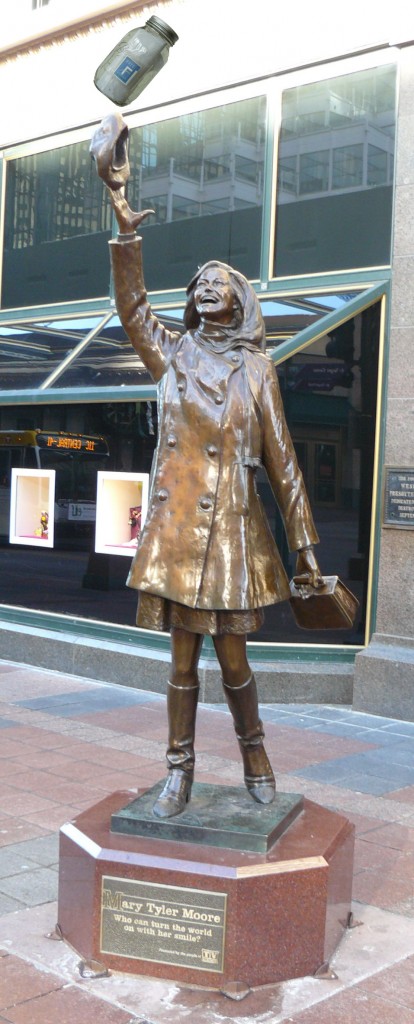 Next stop was Mary's house.  It's for sale in case anyone is interested.  It was quiet in the neighborhood except a kid playing in front of his house.  I think he was wondering what on earth I was doing.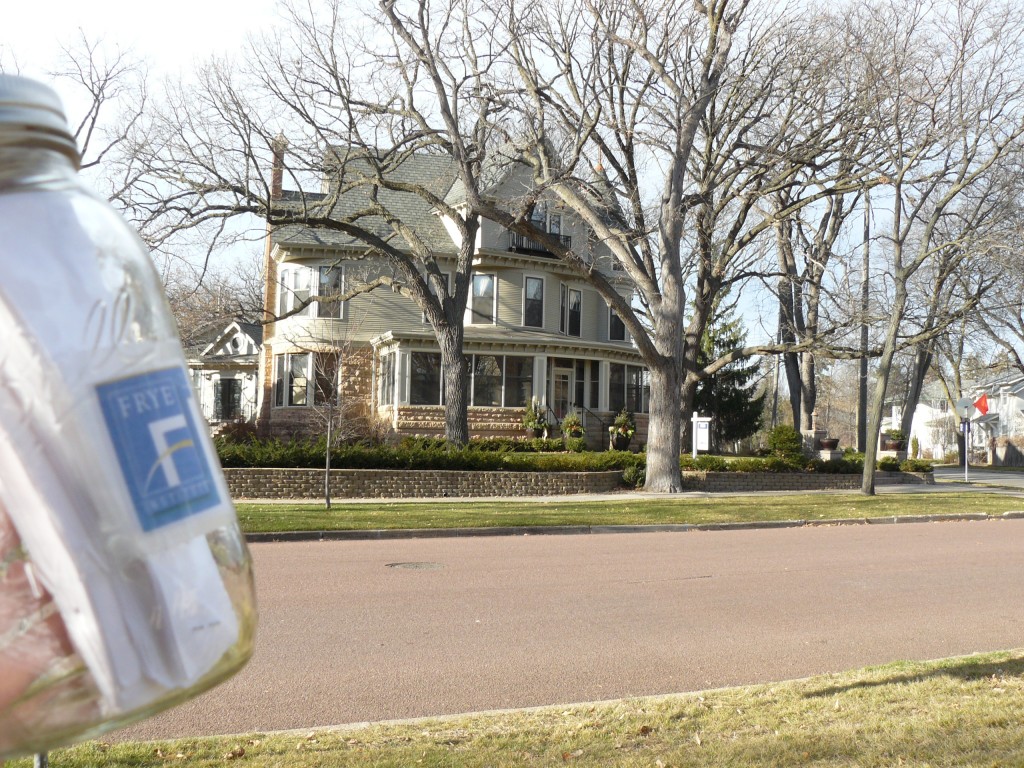 Minneapolis Sculpture Garden
The iconic spoon and cherry at the Minneapolis Sculpture Garden was a natural next stop.  It is so often photographed — there was a group there having a professional shoot.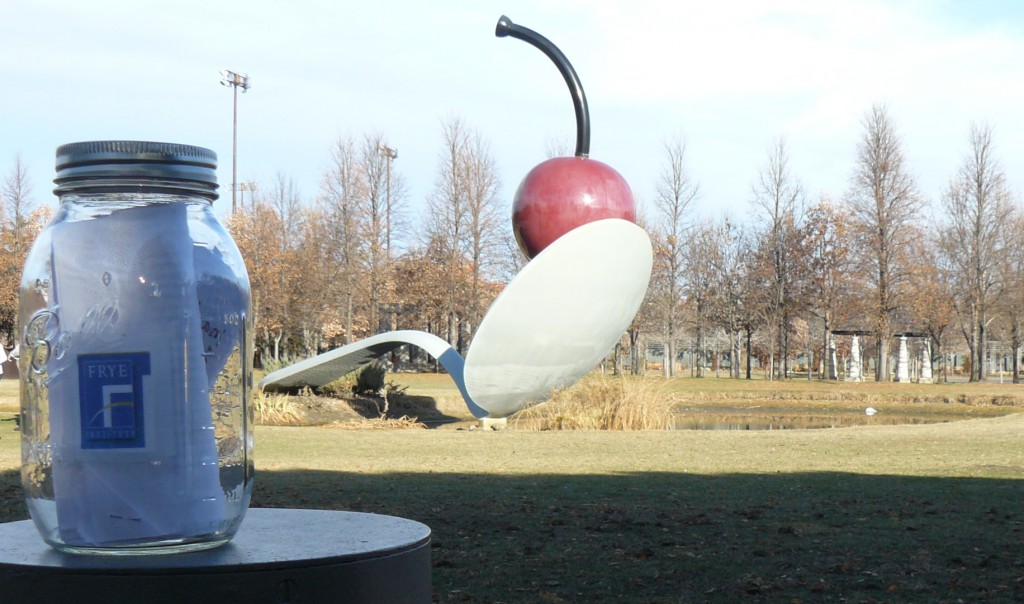 There are so many amazing pieces to see you never know what you'll find.  This one really caught my eye so I took some photos of it with the jar.

It's really a must-visit for anyone coming here.  For anyone living here it's more like a place you dread going due to the crowds and abundant teenagers.  The jar was pleased to see it.  Then we left.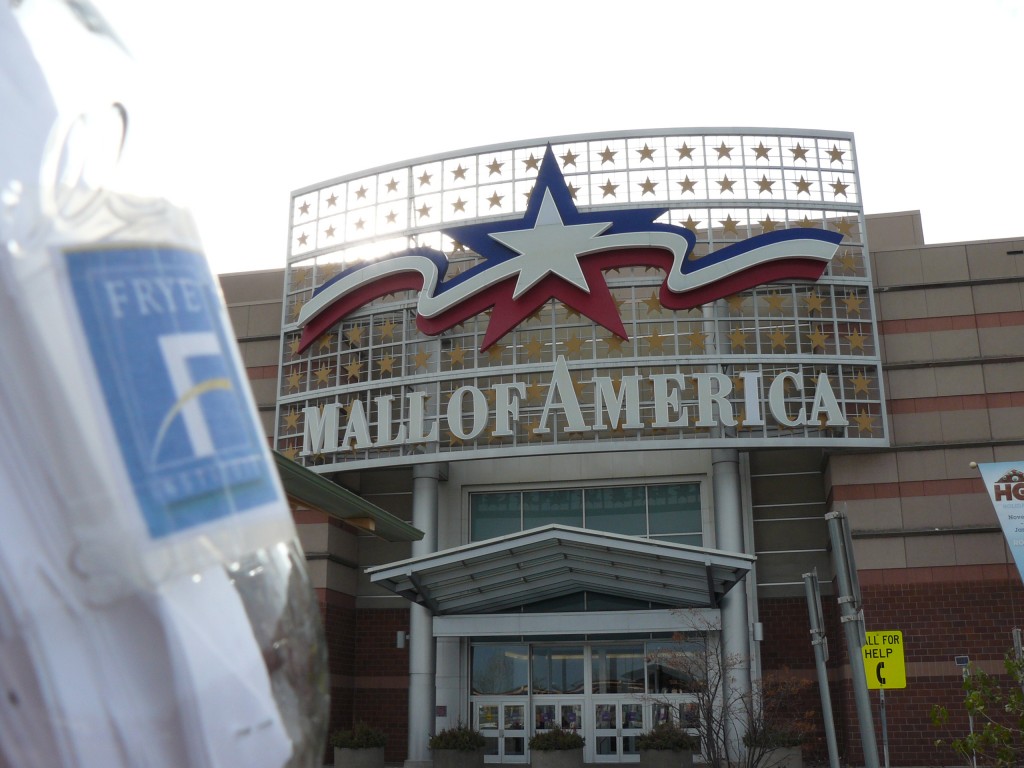 Milling District and Riverfront
Last stop was a walk along the Mississippi around Mill Ruins Park.  The whole riverfront area is a history-lover's dream as there are information plaques all over the place recounting the rise and fall of lumber, milling, and the third twin city St Anthony.  If you see my previous blog post you can see why I love it.
Mill City Museum
First stop was Mill City Museum.  I forget how many times I've gone here.  It's the best history museum ever.  You have a baking lab, interactive exhibits on water power, the flower tower multimedia ride (it's an elevator, don't worry), Minneapolis in 19 minutes flat film, and did I mention it's all inside the ruins of a mill that was burned out in 1991?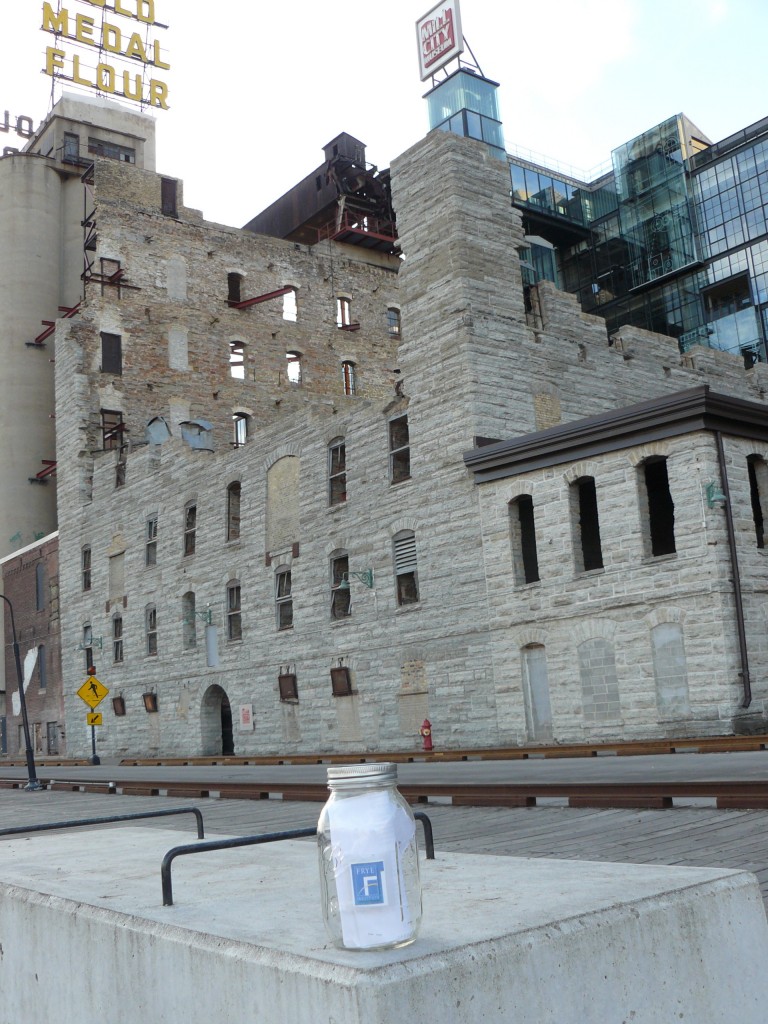 Guthrie Theater
Nearly next door to Mill City (below Gold Medal Flour sign) is the Guthrie Theater.  You really can't miss it.  The view of the river from the end of that extension is great (no supports, it's just hanging there in midair).  I took this photo at the top of the massive mound that makes up Gold Medal Park adjacent to the Guthrie.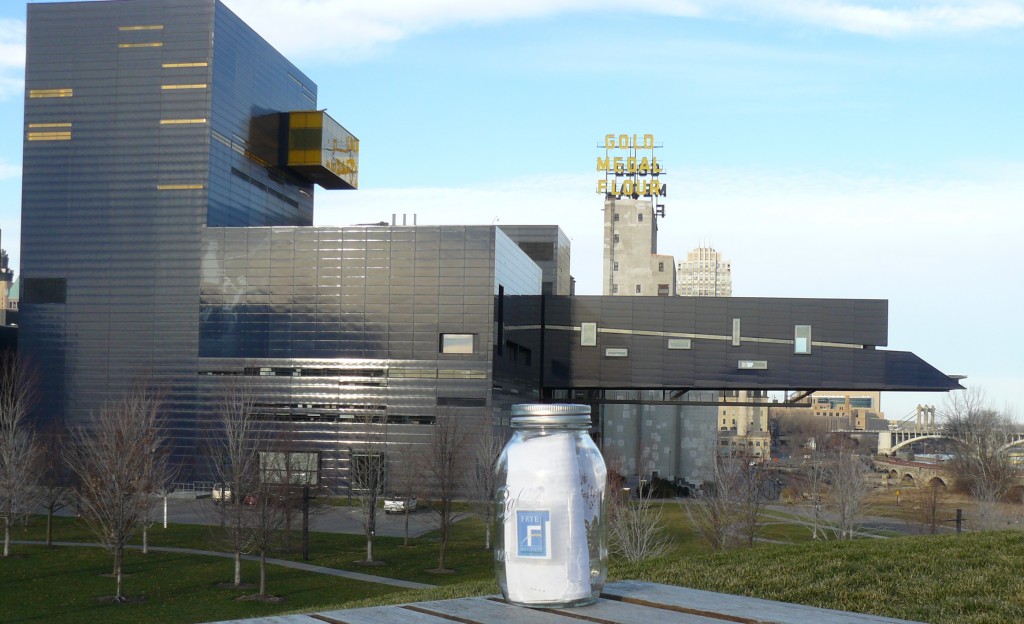 St Anthony Falls
Last up is a view of St Anthony Falls (the only true falls on the Mississippi) taken from the Stone Arch Bridge.  The bridge was built in 1883 by James J. Hill (can visit his house too) as a railroad bridge and now is a pedestrian/bike bridge.  You can walk over to St Anthony Main for entertainment and dining — I recommend Wilde Roast cafe.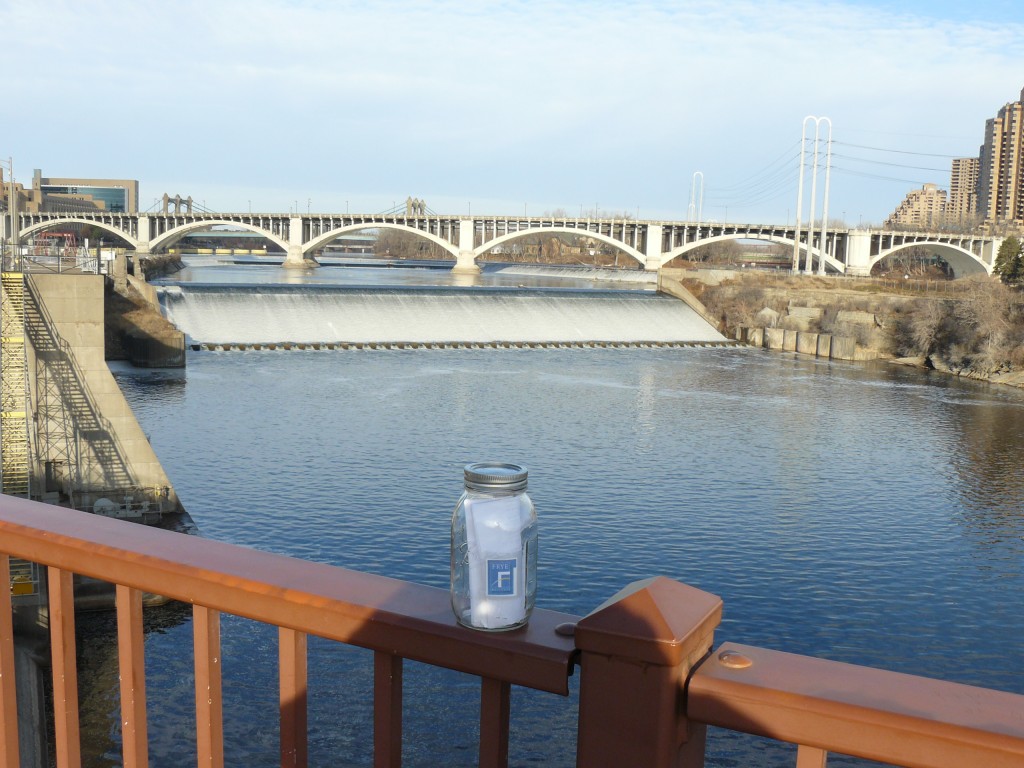 And that's not the Stone Arch Bridge in the background above, here's a shot of the Stone Arch Bridge.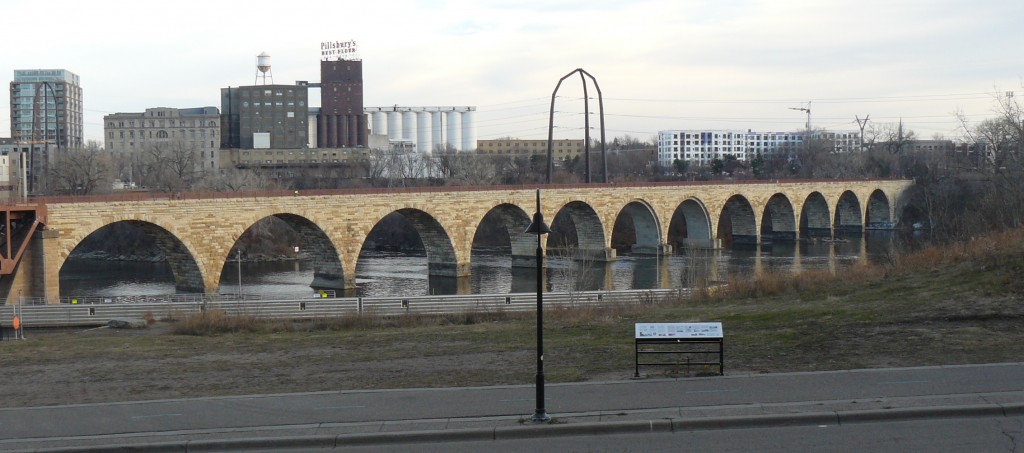 That's the end of the Fryseshine Jar's tour of Minneapolis.  Time to send it on to the next Fryer!