This is a slight diversion from my typical theme of technology.  I've had an interest in urban history ever since being introduced to Larry Millet's  Lost Twin Cities book  in a College history course.  That book and his book Twin Cities: Then and Now (and other versions by other authors) have been like ice cream to me – I can never get enough.  I've even gone on his walking tours of Twin Cities neighborhoods which were excellent.  Having recently moved to the North Loop neighborhood I am surrounded by history.  So I decided to take a walk down Washington Avenue North both then and now.  The Minnesota Historical Societies database  is impressive and keeps getting better — it now has a mapping feature on the pictures so you can see all the images in an area.  All the old images come from there and are linked back to the source.  Click on any of my images to see a larger version.
Washington Avenue North from Hennepin
It's safe to say there's nothing recognizable at this busy intersection.  The buildings in the distance are too far away to anchor us.  A disappointing and realistic start, but it gets better.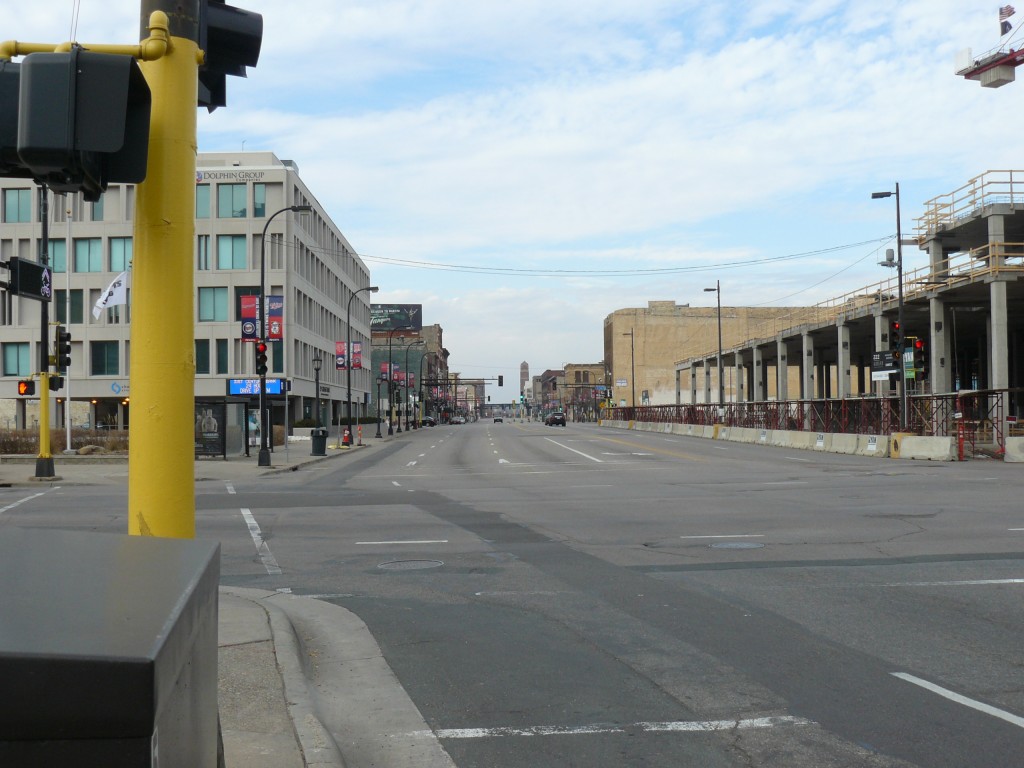 Bradshaw Brothers Building, 100 Washington Avenue North
This building is still here.  It looks like the top peak was shaved off at some point and its neighbor to the right is long gone.  But some things don't change — for rent then and for lease now.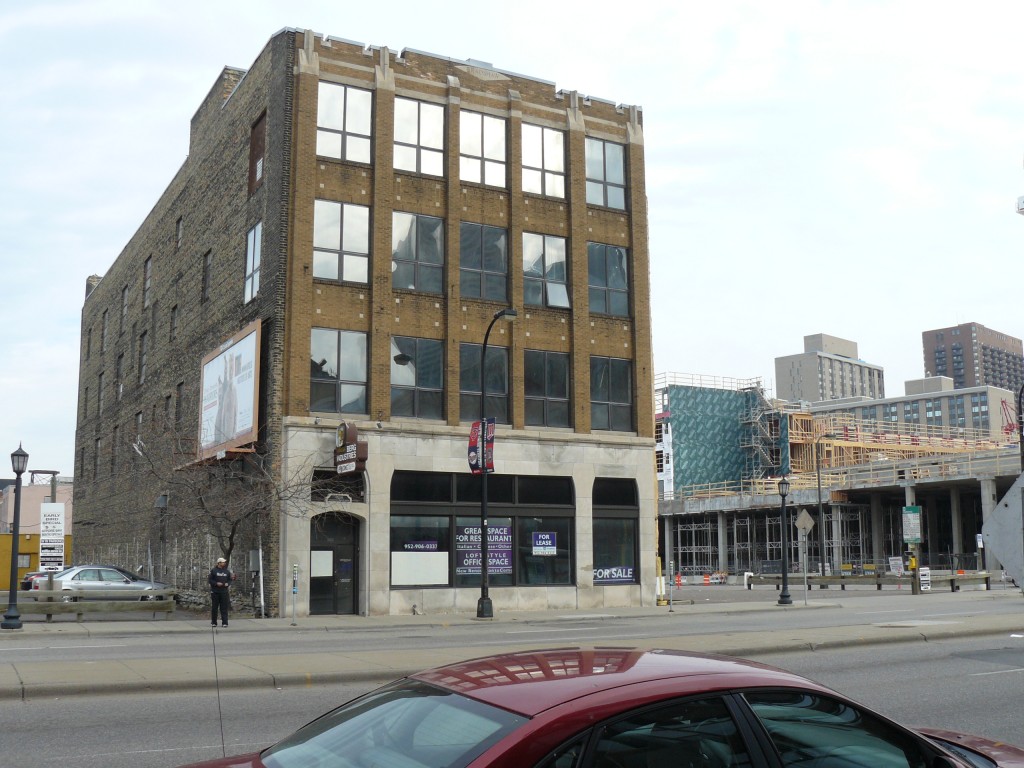 F. E. Satterlee Company, 118-120 Washington Avenue North
This building is long gone and is now a parking lot.  Such is the fate of many buildings downtown until something new is built on the site.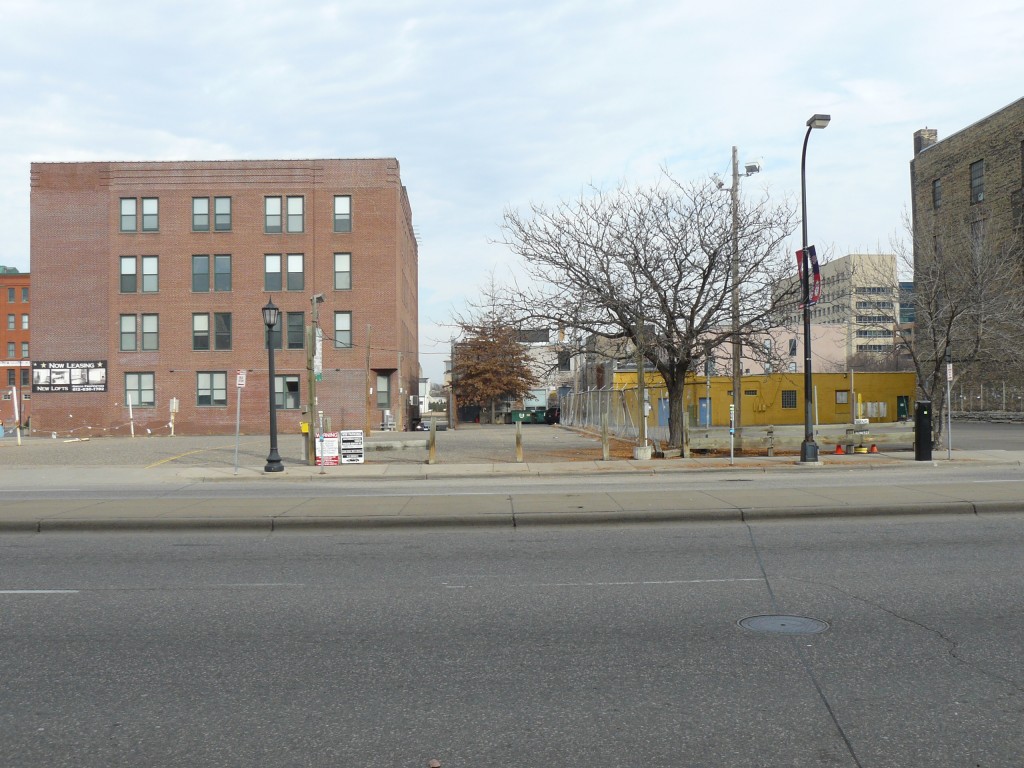 Dewey Theatre, 203 Washington Avenue North
Another building long gone.  Small buildings don't seem to last especially through urban renewal projects.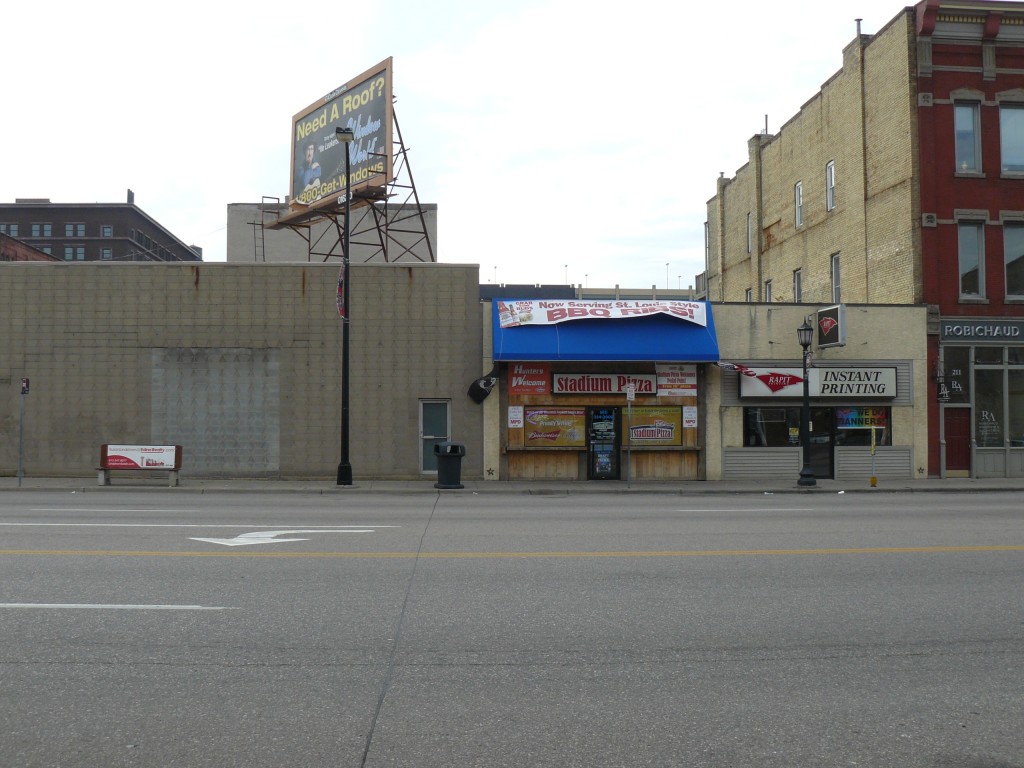 Washington Avenue North from Third Avenue North
Alright, here we go.  The building on the right is easily recognizable and beyond it is a warehouse that has lost its sign. But if you look closely you can see the window pattern and brickwork and that diamond shape on the left that clearly show its the same building.  Often using the window patterns or sizes and other exterior markers will help you tell if you are looking at the same building.
Maurer's Saloon, 507 Washington Avenue North
Maurer's Saloon is long gone but now that address is home to Cuzzy's restaurant.  Funny how some things change very little.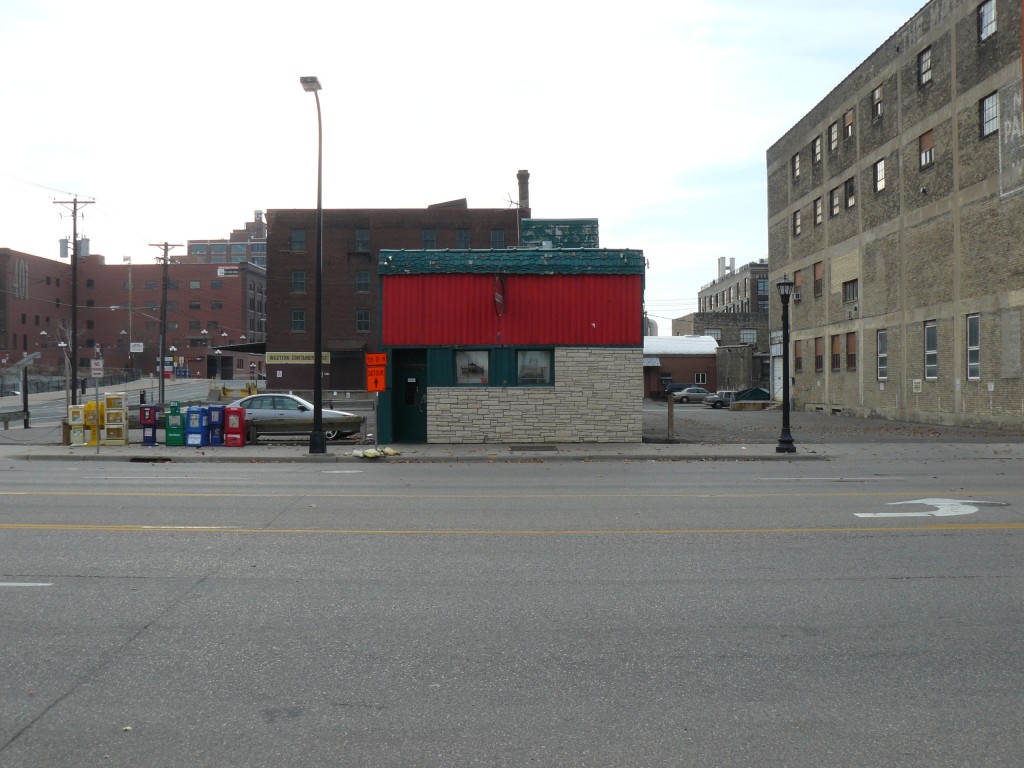 Looking northwest on Washington Avenue from Fifth Avenue North
At first look it may seem nothing is the same. But if you look at the building on the right you see the distinctive stonework around the entrance reveals that it is the same building.  It looks like a third story was added at some point.  On the left of the old photo you see a Maytag sign prominently displayed and there is faded lettering to the left of the sign "THE MA" and on today's photo on the Gardner building you can more clearly see "THE MATAG COMPANY" peeking out from behind the sign.  Many of the painted advertisements on the buildings have lasted or been restored as this area has been reborn as residential, urban residential that is.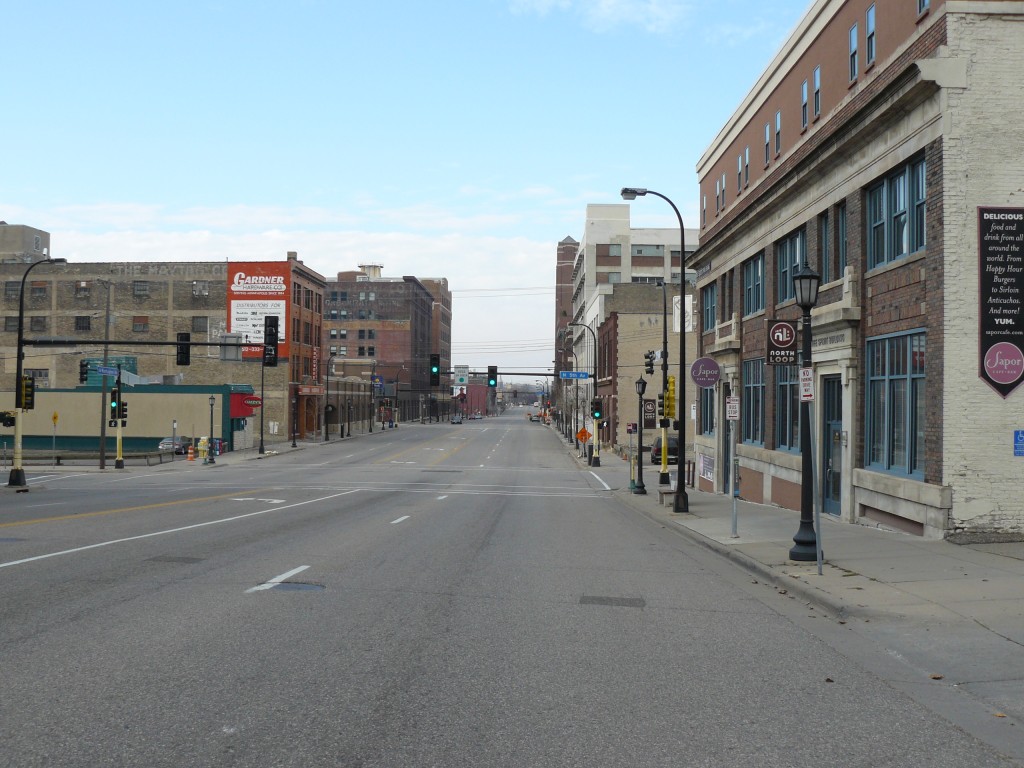 Brin Glass Company, 600 Washington Avenue North
This building has survived quite well and looks better than it did nearly 30 years ago.  The building on its left remains as you can tell from the distinctive fire escape.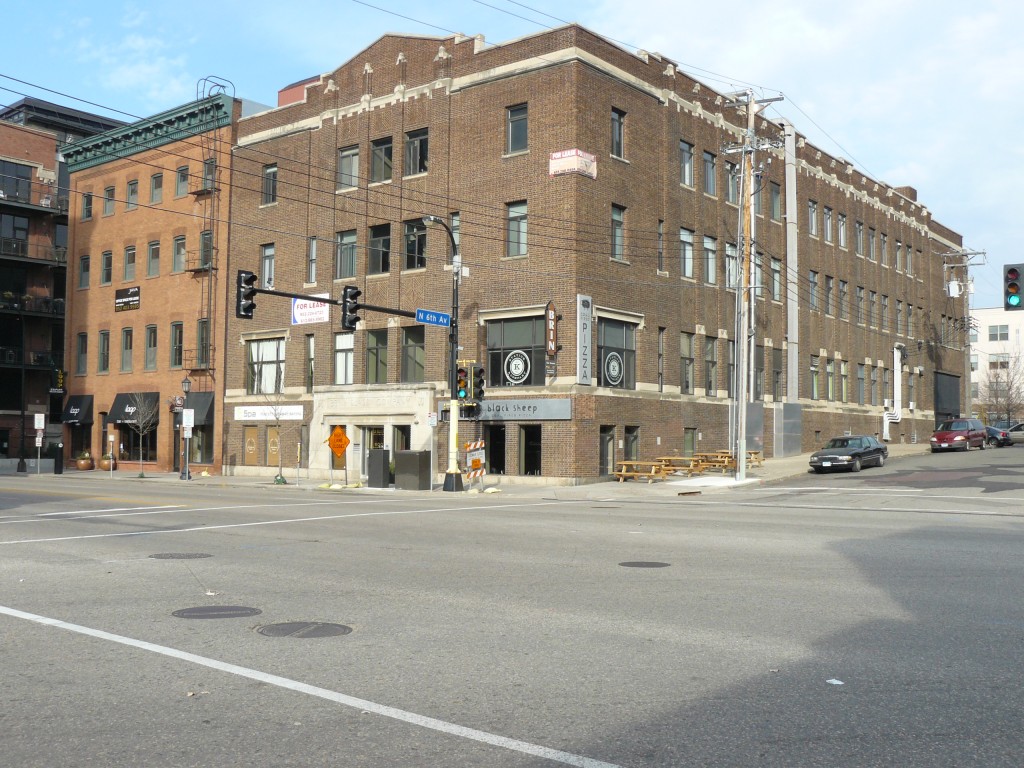 Johnson Nut Company, 718 Washington Avenue North
Those signs on the top of warehouses seem to not last but lettering painted on the buildings often survives.  Exterior detailing and the windows make it clear this is the same building.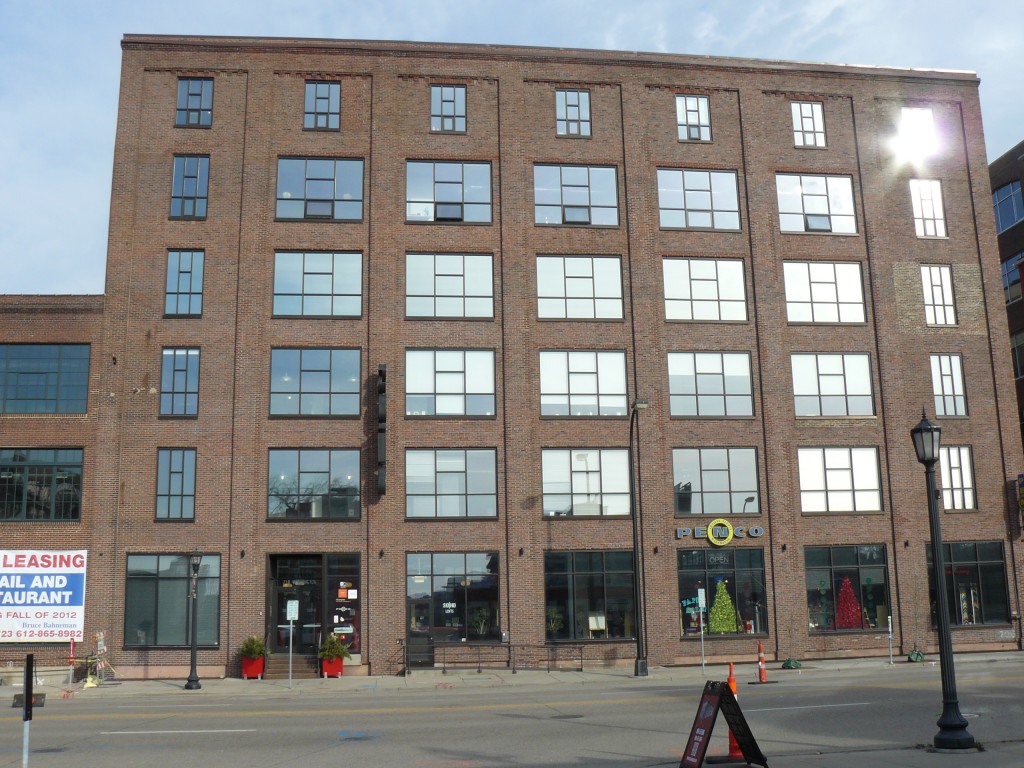 Warehouses, 740 Washington Avenue North
These warehouses are becoming apartments in about two months.  It's nice to see them get a second life.  They look amazingly like they used to with the restoration.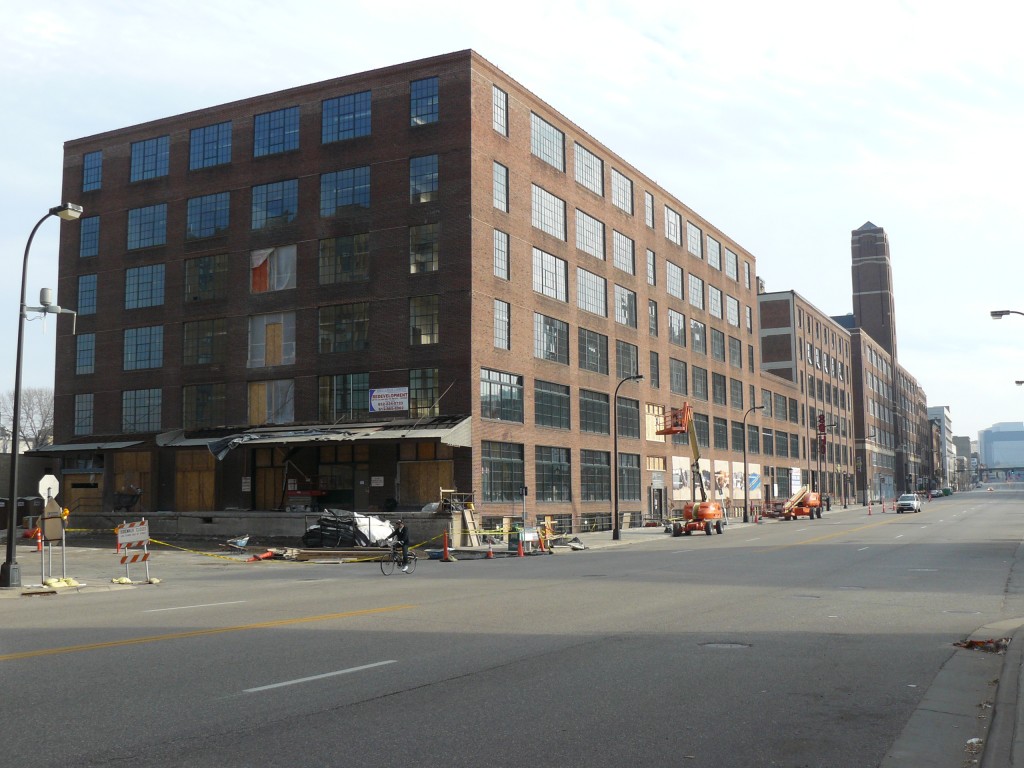 Deere and Webber Company, 800-828 Washington Avenue North
You can't miss this building — the distinctive entrance and different window styles row by row going up.  I suspect cars would be lined up on a regular work day just like they were in the past.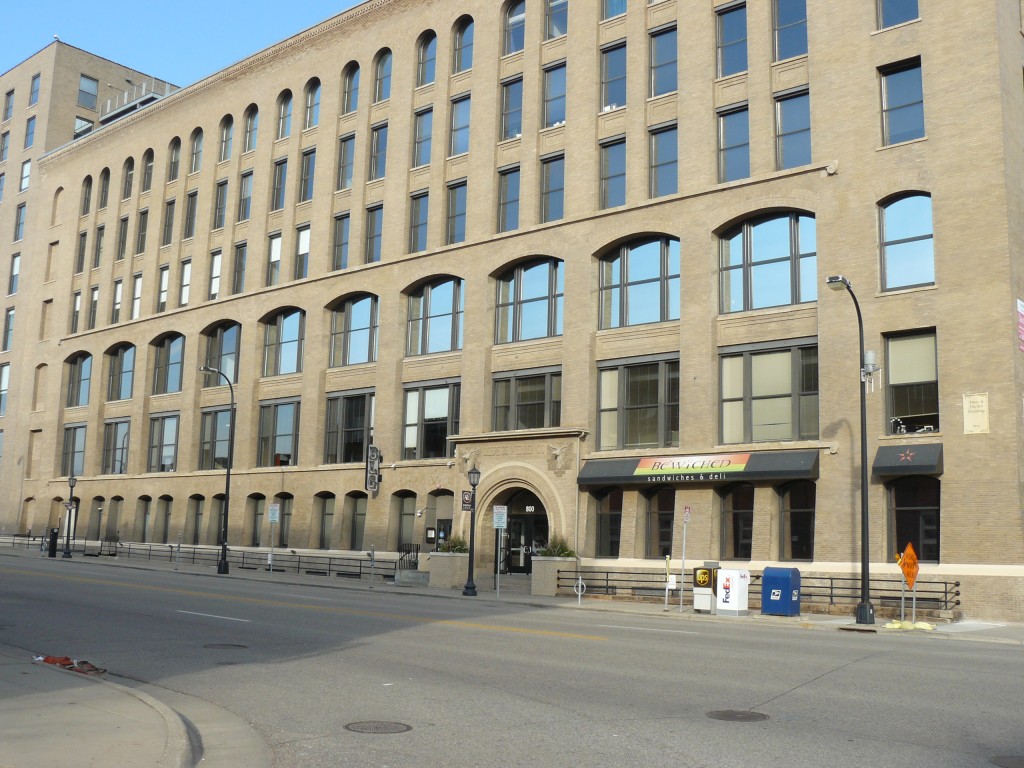 Washington Avenue North from Eighth Avenue North
The Deere and Webber building anchor us on the right but the left side of the street is vastly different now 100 years later.  One can not imagine such openness and nearly residential scenes in this warehouse district today.